| | | | |
| --- | --- | --- | --- |
| | | | |
Frequently Asked Questions


In order to help our customers with their enquiries we have created this page to answer the questions that we are most frequently asked. This page will hopefully answer your questions and give us more time to concentrate on getting the orders shipped to you the customer.

1. Who are CMS Music?

We were established in 1992 and since then have been supplying new and used CDs and other music related items to customers all over the world. We have been supplying goods worldwide over the Internet since January 1996 - longer than many others in our field and are arguably one of the UK's most experienced internet based mail order music companies.

2. Where are you?

We are based in Church Stretton, in the heart of the Shropshire Hills, about 12 miles south of Shrewsbury, England ("X" marks the spot).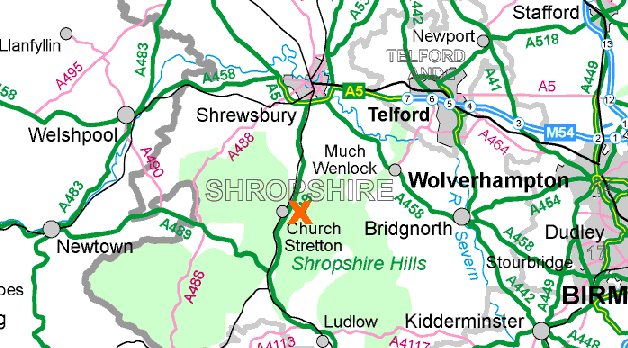 3. Do you have a shop?

No - our business is mail order only and is run from office premises. Regrettably therefore we are unable to receive callers.

4. What is your mailing address?

All mail should be sent to: CMS Music, PO Box 944, Church Stretton, SY6 7WH, England. (The PO Box is used purely for security reasons and our mail is delivered to our office every day as if we used our actual address).

5. What currency are the prices in?

All the prices you see on the CMS Music web pages are in UK pounds sterling (�).

6. Can I make payment in my own currency?

Yes we also accept payment in US Dollars or Euros provided it is in cash (registered mail). Please check with us first that the amount you are sending will cover your order plus the UK bank charges. For full payment details please see here.

7. Payment by Credit Card?

Payments by credit card are accepted through PayPal. You do not need a PayPal account to pay with your credit card..

8. How do I know how much the order I want to make will cost in my own currency?

We are powerless to control exchange rates but our currency converter will give you an accurate guide.

9. Security - Is Internet Shopping Safe?

Fraud inevitably plays a part in on-line commerce and music is no exception. However on-line fraud is far from significant enough to discourage on-line shopping.

CMS Music uses a secure on-line ordering system provided by Netsounds, and all orders made using this ordering system have the credit/debit card details encrypted to prevent unauthorised access to this sensitive information.

CMS Music recommends that customers place their orders through our secure server to minimise any risk. CMS Music has successfully processed over 50,000 credit-card transactions, without a single credit card number being compromised.

It is a fact that shopping on-line is actually safer than using your credit card in a shop or a restaurant, where you are handing your details over to an unknown party. In the event that there is a problem with your purchase, the credit card company will remove the purchase from your bill and the on-line merchant is not paid. In the event that your credit card number is stolen and fraudulently used, the credit card companies do not hold you responsible for any unauthorized purchases.

Click here for further information about credit card fraud.

10. Is there a minimum order amount?

No there is not.

11. International Shipping

CMS Music can ship orders to almost anywhere in the world. Remember that you are responsible for any taxes, duties, or customs fees charged by your local government. We must place a customs sticker on all international orders. This sticker lists the contents as "Audio Compact Discs". We must fill in the value of the order on this sticker and we can not declare an incorrect value on your shipment. All European and Overseas orders are shipped by Air Mail. We will only ship by Registered (Insured) Mail to certain "high risk" countries in the Far East, South America and Eastern Europe. This is due to the high risk of orders going missing to these areas.

12. What Condition are your used CDs in?

All used CDs purchased and sold by CMS Music are in at least excellent condition - most are near mint. We do not buy scratched CDs. All our used items are guaranteed against faults with our money back guarantee. Brand new items are denoted by "(new)" or "(sealed)" after the title.

13. Can you provide a track listings for the items advertised on your site?

Unfortunately we are unable to provide track listings for our inventory. We will however provide record company catalogue numbers and we recommend that customers use the CDDB service, Google or Allmusic.

If it is essential that an item contains a certain track or mix, please order the item stipulating your requirements and when the order is picked from our warehouse we will make sure that we can satisfy your requirements. We will confirm by e-mail whether or not we can supply the required item.

14. Do UK video tapes/DVDs play on video/DVD machines from other parts of the world?

UK videos and DVDs are in PAL format whereas the standard for US and Japanese videos is NTSC. Many more modern videos will play both formats and you should check in your VCR manual for this. PAL format videos play nearly everywhere in the world apart from the USA and Japan. DVDs are categorised by zone and customers should ensure that they can play the particular zone before ordering. All DVD's can played on PC's irrespective of the zone category.

15. What is your Returns Policy?

All items purchased from CMS Music are fully guaranteed against faults with our money back guarantee. Any item found to be faulty or not as described must be returned to us within 7 days (14 outside the UK). You should notify us of faulty items as soon as it becomes apparent by email. Any items returned to us because they were ordered in error or returned due to a change of mind will be accepted at our discretion, and if accepted may be subject to a 50% restocking charge. All sales become final after 30 days.

16. My order is overdue - where is it?

In the unlikely event that your parcel does not arrive, we will contact the post office to trace the item. Our policy is to wait 14 days before declaring a UK order lost and 28 days for shipments outside the UK. If you are outside the UK, you should first check with your local postal or customs office, as many times an order is held there. If your order has not arrived within these time frames, email and be sure to provide all details of your order. We will then instigate a claim to the UK Post Office. Please be aware that in the event of a claim having to be made to the Post Office, CMS Music will not make compensatory payments for lost orders until the Post Office has first settled the claim. Customers are deemed to accept this when placing orders.

Please remember that we can not be held responsible for loss or damage in transit where adequate insurance has not been taken out.

17. Can you find an item for me?

Regrettably we do not operate a search service as such but our stock changes daily and it is well worth regularly checking our web site for the new additions to our catalogue.

Please contact us if you have further questions.

Back to top
CD Albums, CD Singles, Boxed Sets, Deletions, Promos, Autographs,
Music CDs, Rare Vinyl Records, Deleted, Imports, Cheap CDs,
Used Music, Out of Print Rare CDs, Albums, Hard To Find, Memorabilia